24 June 2021
Neste Components, a subsidiary of Finland-based Neste Oyj, is expanding its renewable aviation division in Amsterdam Airport City. 'Sustainable aviation will be key in the future,' says Thorsten Lange, Executive Vice President of Neste Renewable Aviation. In an interview, he tells us why Amsterdam Airport City is the ideal spot for the fourth most sustainable company in the world.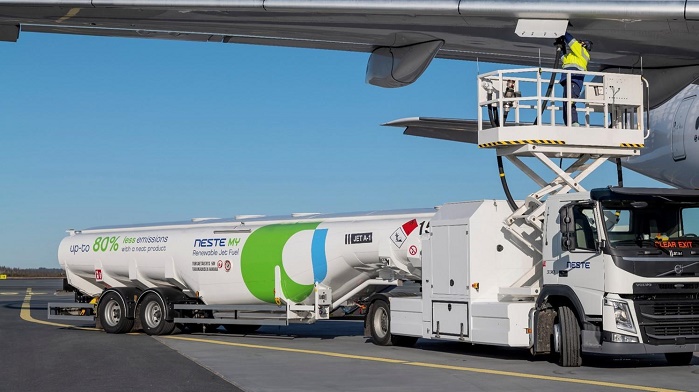 Neste is the world's leading producer of renewable diesel and sustainable aviation fuel produced from waste and residue raw materials. It has refineries in Rotterdam and Singapore and as from 2019, the heart of their renewable aviation division can be found in the Pharos building in Hoofddorp, the Netherlands. Sustainable Aviation Fuel (SAF) is a drop-in solution that is readily available and already in commercial use at Amsterdam Airport Schiphol and other airports. In its neat form and over the life cycle, its use can reduce up to 80% of carbon emissions compared to fossil jet fuel use. 
'Amsterdam Airport Schiphol is a very strong partner in sustainable aviation.'
'The Netherlands is a frontrunner when it comes to renewables and green technologies, which is why we've decided to base our head office here,' explains Thorsten Lange. 'The Dutch government is a strong promoter of the European climate ambitions, and for us to be able to further accelerate business growth, we need those strong local players. Amsterdam Airport Schiphol is also a strong partner when it comes to introducing policies, supporting the most sustainable flying, and supporting more sustainable efforts. In terms of products, we're in the centre of Europe, and the inland is perfectly connected. Half of the European consumption on jet fuel is running through the port of Rotterdam, so the infrastructure is already there.'
'The human resource factor is also very important for us to further grow our business. The Netherlands provides access to specialists in sustainability, sourcing, trading, and logistics. Our renewable aviation division, but also our renewable platforms, require this kind of expert knowledge. If you want to attract people from abroad, Amsterdam is almost a no-brainer. The location alone opens opportunities for us to attract people because Amsterdam and its surrounding area is a very attractive place to live.'
'I couldn't think of any better location.'
Amsterdam Airport City is perfectly connected. 'The connection between Hoofddorp and Amsterdam Airport Schiphol is the shortest you can think of. It's a three-minute train ride, and a train departs every eight minutes. For example, if I have a flight at 11:00, I can, under normal circumstances, leave my desk at 10:10 then take the train at 10:20 and be at the gate no later than 20 minutes before departure. Once travel restrictions have been lifted, we'll have a lot of visitors coming from all over the world. Being close to the airport is definitely an advantage. The icing on the cake: from the 18th floor of the Pharos building, we can see our customers in front of us. Looking North, we have a view over the runways and the whole airport – an impressive sight. Pharos has a very modern take on how to live and work. The building is all about sustainability, it's about creating a community, and about circularity. That's a good match with our vision at Neste: we want to create a healthier planet for our children, and we want to do that faster, bolder and together.'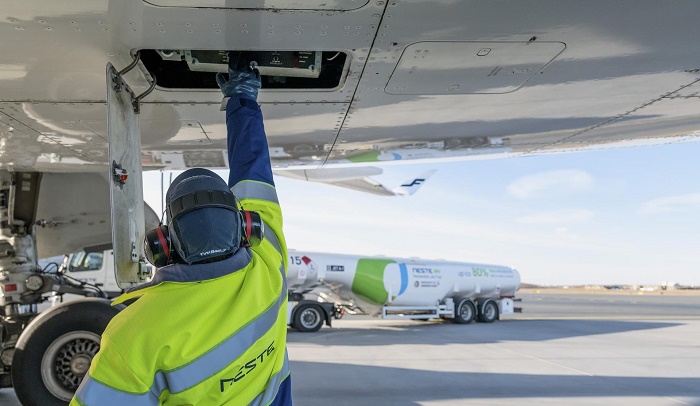 'Sustainability is a prerequisite for aviation recovery.'
The Neste Renewable Aviation team is expanding weekly. 'We're close to 50 people now, and we started with less than 20 in 2019. That's quite a success story considering we're in the renewables business.' Thorsten Lange has a clear opinion on the future of aviation: 'Aviation will survive, aviation has to survive. Since its start, aviation has been one of the most important peacekeepers in the world because it doesn't just connect countries, it connects cultures. It helps people to understand each other, and it helps families to see each other.'
'Aviation is the best solution to delivering products and goods around the globe in an acceptable time frame, as we live in a just-in-time culture. I'm guessing aviation will have recovered to a minimum of 80 to 85% of what it had been before COVID-19 by 2023 at the latest. However, COVID-19 has had quite an impact on renewable aviation. From every angle, it has accelerated the awareness of sustainability. Not only policy makers, airports, and airlines have understood that flying has to cost more, and that using sustainable aviation fuel plays an important role in reducing carbon emissions and that it has a positive effect on the climate, passengers did, too. Sustainable aviation will be key in the future.'
'The European Union is now talking about implementing so called "blending mandates" that will kick in in 2025. These regulations require aviation fuel to consist of three to five percent SAF and even higher percentages in 2030. Pre-COVID-19, the worldwide consumption of regular jet fuel was 330 million tons. Therefore, one percent already equals more than three million tons of SAF that would be needed. That's why we're modifying our refinery in Rotterdam to optionally produce up to 500,000 tons of SAF per annum as part of the existing capacity. On top of that, we'll be able to produce another million tons of SAF in our Singapore refinery in 2023. Together with other producers, we'll be able to meet a requirement of around two percent next year. Demand is growing, and we'll have our production follow that demand.'
'You won't get money from the market, if you're not working on your ESG profile.'
Neste also sells SAF directly to companies looking to reduce their carbon footprint. 'Employee travel can present a very significant portion of a business's carbon footprint. We are offering a solution directly to corporations to reduce their emissions in travel. Business can purchase an amount of SAF that Neste will supply to airlines on behalf of them, resulting in a reportable emission reduction for both airline and corporation. The value for businesses is very tangible as SAF represents a very real, direct and in-sector emission reduction compared to other alternatives. Businesses can finally commit to ambitious emission reduction targets while maintaining the option to travel, and meeting the sustainability expectations of employees, customers, and investors. For corporates, sustainability is almost a licence to operate. It will be much easier to collect funding for your business if you have stronger ESG (Environmental, Social and Governance) profile.'
'Everything is perfectly arranged.'
It is easy to start a business in the Netherlands: 'The Netherlands has a welcoming culture and starting a business here is perfectly arranged,' says Thorsten Lange. 'At IN Amsterdam, they're happy to help you get your citizen service number (BSN). The Dutch healthcare system is also a huge benefit – people don't have to worry about anything. Our cooperation with the Dutch government couldn't be better. We have good relations with the Ministry of Infrastructure and Water Management but also with other authorities.' Neste is participating in the 'Duurzame Luchtvaarttafel', which is a coalition of important stakeholders with the aim of reducing aviation's carbon emission. 'At the Port of Rotterdam, we're also working with various companies in our vicinity to make the best use of the existing infrastructure. It's a perfect network. And last but not least, we have a minority stake in Aircraft Fuel Supply B.V., the owner and operator of the Amsterdam Airport Schiphol fuel storage company. We became a shareholder to demonstrate that we're willing to go the extra mile,' says Thorsten Lange confidently.