22 September 2020
The head office of BSH Nederland is located at inspiratiehuis 20|20, a cradle to cradle building with showrooms and offices in the beautiful green surroundings of park 20|20 in Amsterdam Airport City. Cradle to cradle reflects the idea that all materials can be re-used or re-turned to nature, without loss of quality.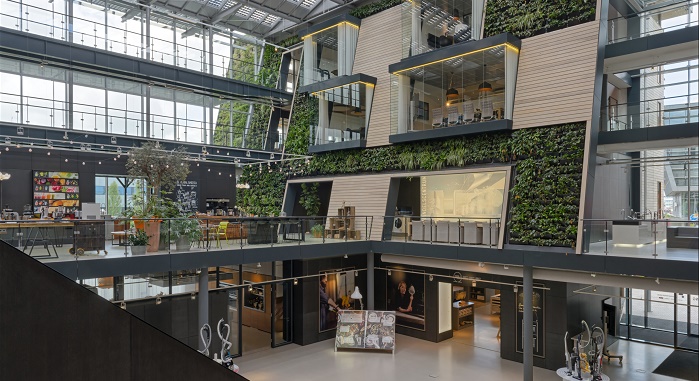 The BSH Home Appliances Group is one of the world's leading manufacturers of household appliances. In the Netherlands, BSH has a sales, marketing and service organisation for the brands Bosch, Siemens, Gaggenau and NEFF with the inspiratiehuis 20|20 as head office in Amsterdam Airport City. Here sustainability, innovative solutions, four unique home appliances brands and a network of talented people come together under one roof. 
Within inspiratiehuis 20|20 the large atrium with the enormous green wall connects the offices on the top floors with the showrooms of the brands Bosch, Siemens, Gaggenau and NEFF on the ground and first floor. Consumers looking for new kitchen appliances are welcome for orientation and personal advice (by appointment only due to the coronavirus). They can also participate in cooking demonstrations and cooking workshops, to discover all the possibilities of the appliances. The office spaces on the second and third floors are characterized by modern and open office gardens that promote optimal performance and collaboration.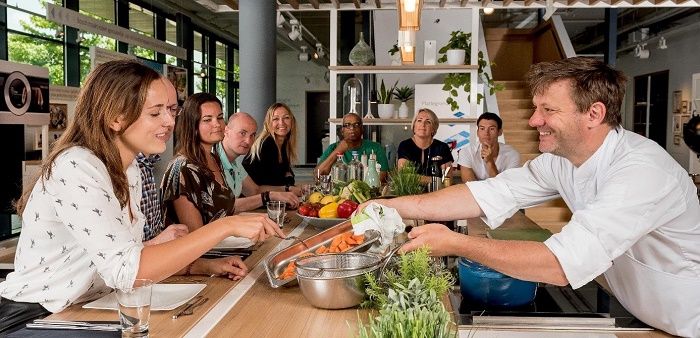 Sustainable Solutions
At inspiratiehuis 20|20, a heat-cold storage (HCS) regulates the indoor climate, almost 1000 climbing and hanging plants purify the air and thousands of solar cells on the glass roof of the atrium generate sustainable energy. Outside, various plants decorate 50 percent of the roof. They provide biodiversity, cooling of the building and serve as rainwater filters. This water is used for sanitary facilities, so that precious drinking water is not wasted.