Circular Plastics is the winner of the SHARE Award 2022. Among this year's other nominees, the Aalsmeer-based company was the company that had the most to offer in the field of innovative opportunities and developments in Haarlemmermeer and the Amsterdam metropolitan area.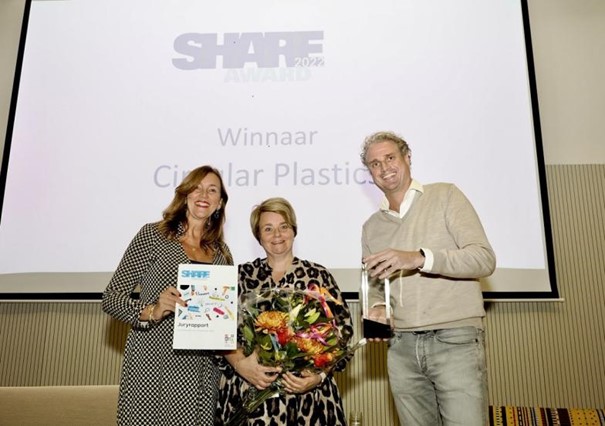 Alderman Marja Ruigrok hands over the SHARE Award to Sabine Joore and Jaap Buis of Circular Plastics (photo: Jur Engelchor)
Among the other nominated companies, Circular Plastics had the most distinctive profile, the most high-profile sustainable cases and the best story when it comes to impact within its sector and beyond. Therefore the company earned the SHARE Award 2022.
Sustainable Solutions
Circular Plastics develops plastic solutions within a closed cycle. The company has developed various sustainable circular packaging and transport solutions that make an impressive contribution to ecology, or the CO2 footprint, by reducing environmental impact and the single use of scarce resources. The company is committed to 100 percent recycling of single-use materials. Jaap Buis of Circular Plastics says: "A great honor and recognition for our activities. With our company we have developed a 100 percent cycle without any waste remaining."
Marja Ruigrok, Alderman for Economic Affairs of the Municipality of Haarlemmermeer: "As the Municipality of Haarlemmermeer, we like to lead the way when it comes to innovation, sustainability and circularity. With Circular Plastics we have a nice addition to our advanced economical range. I congratulate Circular Plastics on winning the SHARE Award 2022!"
About the SHARE AWARD
The SHARE AWARD is all about innovative developments and opportunities in Haarlemmermeer and the Amsterdam metropolitan region around high-profile sustainable cases/companies/themes. For the winners of the prize, the organization looks at the distinctiveness of a participating company within the areas sustainability, circularity and impact on the environment. By presenting the SHARE Award, SHARE is trying to give the winner of the award a push for growth, visibility and impact on a better world. The winner will receive the SHARE Award 2022, the SHARE Boost network lunch with all SHARE Founders and a lot of publicity.