The Amsterdam Metropolitan Area (MRA) is shifting its focus from volume to value when it comes to attracting international companies. Steps were taken to strengthen this position in 2022, with an increase in local employment rates and a growing number of companies contributing to the region's sustainability and innovation goals.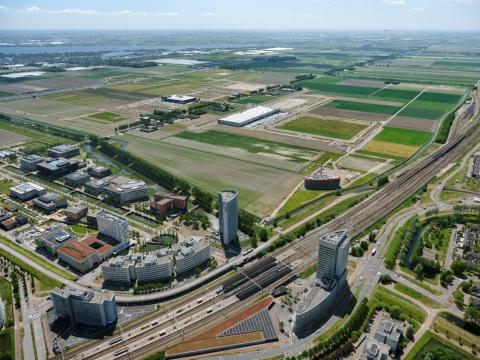 Spoorzone Hoofddorp and Schiphol Trade Park (foto: SADC)
In 2022, 90 international companies set up a new office in the Amsterdam Area, creating 2.798 new jobs. These include 14 international and European headquarters. An additional 1.015 new jobs were also created due to the expansion of 15 international companies that were already established in the Amsterdam Area.
When it comes to attracting new businesses in the coming years, Amsterdam inbusiness plans to focus on providing services to companies that contribute to the societal and economic goals of the region. This includes supporting areas such as innovation, digitisation, sustainability, circularity, energy and food transition. Corporate Social Responsibility (CSR) and Environmental Social Governance (ESG) credentials will also be important factors for consideration.
This shift in focus is reflected in figures published today by Amsterdam inbusiness and the Netherlands Foreign Investment Agency. Amsterdam inbusiness (aib) is the "foreign investment agency" of the Amsterdam Area where the municipalities of Amstelveen, Amsterdam & Haarlemmermeer work together.  Most of the newly arrived companies are involved in ICT & tech, financial services & fintech, transport & logistics, the creative industry or the life sciences & health sector.
Deputy Mayor Marja Ruigrok, (Economic Affairs, Municipality of Haarlemmermeer) co-initiator Amsterdam inbusiness: "The time of unlimited space for companies in our region is over. We have to make strategic choices. The theme of "volume to value" fits in perfect. I see opportunities in the growth of knowledge-driven activity, such as in life science and health, for example. Together with our neighboring municipalities, we add more value to our region."
Geopolitical relations and scarcity
Various geopolitical and economic factors, including increased global uncertainty (war in Ukraine, energy crisis, rising inflation) and bottlenecks within the Dutch economic environment (nitrogen challenges, energy infrastructure, scarcity of space, tight labour market) have a direct impact on foreign investment in the MRA.
In 2022, there were fewer foreign investments (new companies, expansions or headquarters) than expected. This is a global trend. However, the total number of jobs historically expected to be created by newly established international companies has remained high.
It's also important to note that landed companies in the MRA in 2022 are expected to create an average of 30 jobs per company. In previous years, this average was found to be lower. The demand for talent from international companies in the MRA remains significant. Businesses view the Amsterdam Area as the ideal place to attract and retain talent. A 2017 Central Bureau of Statistics (CBS) survey shows that for every job created by a newly established international company in the Netherlands, at least one additional job is created indirectly in the form of support or supply services. The basis for this calculation remains up to date.
Regional collaboration
Amsterdam inbusiness (aib) works closely with the Netherlands Foreign Investment Agency (NFIA) and the Invest in Holland Network. Collaboration also happens on a regional level with SADC (Schiphol Area Development Company), AAA (Amsterdam Airport Area Foundation), the province and ROM InWest (Regional Development Company), with the goal of strengthening the region's services and develop a thriving investment climate.