21 October 2020

The biopharmaceutical company AbbVie has reached the fourth place on the list of 'Great Place to Work' Netherland 2020 in the category 'Multinational Companies'. This result shows that AbbVie's employees at the locations in Hoofddorp and Zwolle enjoy their work, are proud of what they do and work together with confidence.
"For the sixth time in a row we are in the top 10. A nice result and reward for the efforts we all make on a daily basis", says Lennaert Rijken, General Manager at AbbVie BV. "The commitment and dedication of our employees lead to our success. For this reason we think it is important to ensure that our employees are able to develop a broad range of skills and feel well. We offer suitable tools and encourage everyone to take their own responsibility." AbbVie's mission is to discover and develop innovative medicines that solve serious health problems and address tomorrow's medical challenges.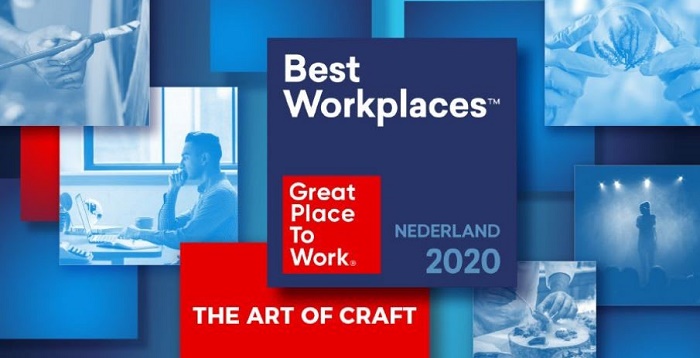 Jan Dikker, director Supply Chain at AbbVie Logistics, who is responsible for the global logistics and supply chain says: "We want to be a great place to work for everyone who works with us". This is our worldwide commitment. The insights of 'Great Place to Work' provide us with valuable input to keep growing as an organisation year by year. I'm happy with this appreciation. It shows that we are still on the right track. Creating a workplace where people can get the best out of themselves, that's what it's all about." AbbVie has also been recognized as One of the Best Workplaces in Europe and 2020 World's Best Workplaces.
Great Place to Work
Organisations on the list of best workplaces have developed work environments with a focus on trust, pride and pleasure. GPTW askes the opinion of employees on five values: credibility, respect, honesty, pride and camaraderie. In addition GPTW includes the policy in the field of development, recruitment and reward in the employer survey.
About Great Place to Work
For 35 years, GPTW is helping organisations to increase trust in companies, the key factor of a successful organisation. The research provides insights into the perception of employees, the way of working together and the leadership within an organisation. GPTW shows points for improvement for a strong organisational culture and provides guidance in its follow-up. The international organisation works with companies, non-profit organisations and government agencies in 60 countries on all continents. Every year, 700 organisations worldwide participate in this survey, representing around 12 million employees. It is the largest study of its kind. 
Read more on how the pharmaceutical firm AbbVie is striving to improve the lives of people in the Netherlands and around the world.