26 October 2021
With the ambition to become 'the healthiest workplace in Europe', the renovation of Pharos, the office tower next to Hoofddorp station in Amsterdam Airport City, started a few years ago. Some twenty partners worked together to realise that ambition. Their efforts have now been rewarded with the SHARE Award 2021. Alderman Marja Ruigrok (Economics and Innovation) presented the prize last week during SHARE Meets Food on De Olmenhorst estate.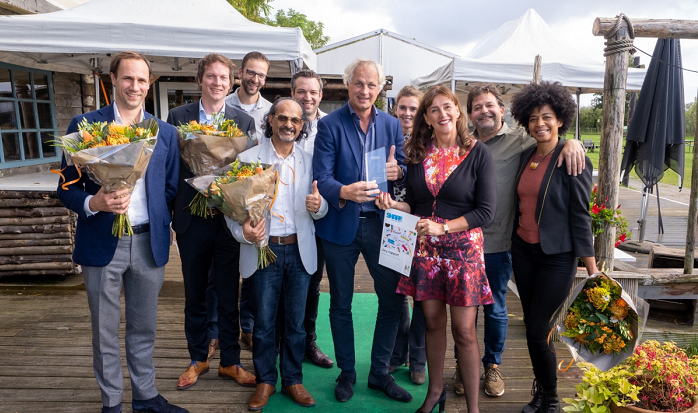 "It's great that Pharos won", says Xander Meijer. He has led the transformation of the Pharos office tower in recent years. "We want people who work here to feel good and comfortable, to leave here more energetic than when they came in. That it is an environment that gives energy."
New concept
When real estate owner Cairn Real Estate took over the property a few years ago, it decided to do a major renovation. Four ambitions were formulated together with Xander Meijer of De Nieuwe Draai Foundation: maximum health, zero waste, total energy and a vibrant community. In other words: a healthy, energizing, circular working environment, where people like to stay, meet, inspire and collaborate.
Clean air
"Whether you feel comfortable in a building depends on many factors: light, air, colours, proportions, acoustics and much more. We paid attention to all those aspects", says Meijer. For example, there is a ventilation system that ensures very pure indoor air and prevents the spread of aerosols. There is a lot of natural daylight, vital drinking water, plants are everywhere and the low-rise part of the building has a green roof. Façade panels generate energy and illuminate the building from the outside in the evening with 1,100 LED lights.
Wall covering of old jeans
On the 19th floor there are meeting rooms, a sky bar and a reload area with hammock and massage chair to relax. "It's usually the CEOs and the boards who sit at the top of the buildings, but we want everyone who works here to be able to enjoy the spectacular view", says Meijer. The floor can also be rented for festive gatherings and dinners, for example. The space is circularly furnished with, among other things, paint on the walls that absorbs CO2, carpeting made from carpet remnants and wall coverings made of old jeans.
The Farm Kitchen
The flagship of Pharos is The Farm Kitchen, located in the low-rise part of Pharos. This is the appealing restaurant for companies and visitors of Jonathan Karpathios, former owner of the famous Vork en Mes. He works with farmers within a radius of 20 kilometers for local, healthy, super fresh and delicious food. Meijer: "An average meal travels about 30,000 km before it ends up on our plates. That's absurd isn't it? The Farm Kitchen concludes contracts with farmers in the area. They will grow more varied crops, which the Farm Kitchen is guaranteed to purchase. That is also good for biodiversity." Jonathan Karpathios and Xander Meijer are rolling out the Farm Kitchen concept nationwide.
Collective Pharos
The Pharos Hoofddorp collective consists of twenty innovations led by Xander Meijer. It consists of: The Farm Kitchen (Jonathan Karpathios, Xander Meijer), CAIRN Real Estate (Gyula Öry and Frederick van Gulik), COARE (Rob Oomen), Solarix & Cube architects (Marloes van Heteren), Dynamic Spaces (Aniel Ramjaman) , Sheryl Leysner Interior Architecture (Sheryl Leysner), De Nieuwe Draai (Marco Sotthewes), Graphenstone (Victor Franke), Healthy Workers (Guus Meulendijk), Draaijer & Partner (Bart Griess and Simon de Ruig).