1 February 2021
The Connected Transport Corridor (CTC) Amsterdam Westkant aims to make transport to and from Schiphol more efficient by using logistics data.
A new smart logistics corridor is aiming to help transport vehicles reach Amsterdam Airport Schiphol more efficiently and sustainably. The Connected Transport Corridor (CTC) is a national initiative that utilises parts of a 400-strong smart traffic light network in the Netherlands, plus live traffic and road information, to notify truck drivers of any incidents, restrictions or closures that may affect their journey. It also uses data to give them priority at traffic lights wherever possible, all aiming to ensure that drivers get to their destination as quickly as possible, also helping to reduce emissions.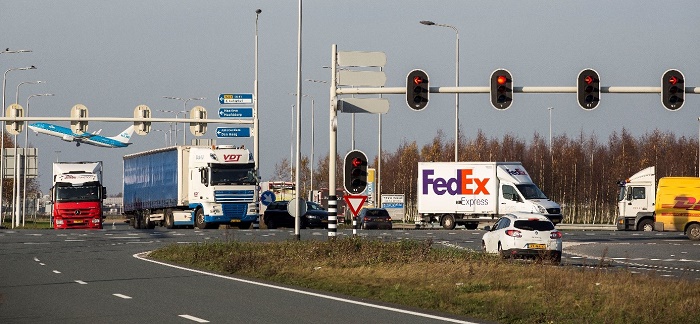 In its first stage, the CTC alert drivers to traffic jams, accidents, construction work and other hindrances on the road through a mobile app, which also communicates with smart traffic lights to give drivers priority green lights when possible. As the project develops, it will work with IT firms to make the technology available on drivers' onboard computers.

In an article on Schiphol.nl, Bart Pouwels, the airport's head of cargo, said: "I think the word 'corridor' says it all. We are literally creating open paths from drivers' starting point to their destination and informs them about obstacles that may get in the way. By giving them priority at green lights, we reduce starting and stopping, which not only supports swift movement but also reduces CO2 emissions."

The Amsterdam Logistics Programme owns the initiative, which was developed by a coalition of public and private partners that want to develop safer, cleaner, more sustainable travel solutions, including Amsterdam Airport Schiphol, the Port of Amsterdam, FloraHolland/Greenport Aalsmeer, the province of North Holland, the Dutch Department of Waterways and Public Works (Rijkswaterstaat), Vervoerregio Amsterdam and the Ministry of Infrastructure.
Why data is key to CTC's success
To work as optimally as possible, the stakeholders behind CTC want trucking and transport companies to share data from their vehicles. This will allow the app to recommend the most efficient route possible and offer the most helpful travel advice. Organisers say that transport companies that get involved can also help develop the system and its solutions, ensuring that it meets their needs into the future.

"These companies are often hesitant to provide data to those outside their own company," Pouwels explains. "But if they're willing to share some data – about as much data as is currently on a typical airway bill – we can reduce their wait times, prepare effectively for their arrival, and optimise their transports, which can save time and costs and increase safety for all drivers. It could even make it possible for drivers to reserve slots at Schiphol, for priority processing of their cargo."