9 April 2021
SEGRO, investor and developer of logistics and industrial real estate, announces the completion of 'SEGRO Urban Logistics Centre Amsterdam' in Amsterdam Airport City; a warehouse of over 6,000 m2 located at Hoeksteen 81 in De Hoek/Hoofddorp. Developed and built, in cooperation with Hercuton. The new cross dock will be leased by UPS for the long-term.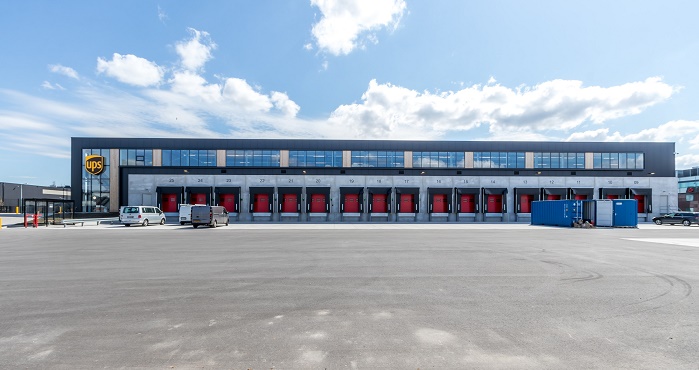 "This new warehouse fits in well with our aim to locate UPS in the most accessible locations." SEGRO's Urban Logistics Center Amsterdam meets this requirement and provides the infrastructure we need to serve multiple regions. The interior also offers what we need for our operation. The warehouse at the Hoeksteen is therefore the perfect addition to our existing real estate portfolio. We are also very content about the solution SEGRO provided during this redevelopment. So, we surely look forward to continue our fruitful partnership with SEGRO", says Yves Alexandre, Director UPS Real Estate France and Benelux.
Brownfield 
Hoeksteen 81 is an existing SEGRO location. The previous building no longer met the current SEGRO standards and also wasn't fit for new developments UPS' logistics operations needed to incorporate; thus, a plan was made for a new, up to date city distribution centre. During the redevelopment UPS was temporarily housed in an accommodation at SEGRO Park Amsterdam Airport. The new centre has now been completed and handed over to UPS. 
Future-proof 
The new building will receive the BREEAM Very Good certificate. To ensure the building is future-proof, consideration has been given to a healthy working environment; sustainable lighting has been implemented with ample daylight and LED light and SEGRO has invested in optimal ventilation, as well as charging stations for hybrid cars with the capacity to easily increase the number of charging stations in the future.
Re-use of land and material
This brownfield development makes use of the existing space at De Hoek and thus contributes to a better quality of the business park. And not only the land has been re-used, but also the stony material that was released during the demolition was incorporated into the new building. The material has been processed into valuable rubble, which then was used in the construction to elevate the building above ground level, allowing for 'natural' loading pits.