27 October 2020
Irdeto, a world leader of digital platform security with head office in Amsterdam Airport City, has been awarded the Innovative Product of the Year IoT at the Cyber Security Awards for the Trusted Home solution. The Cyber Security Awards reward the best individuals, teams and companies within the cyber security industry. The winners of the 2020 awards were announced during a virtual live streaming in September.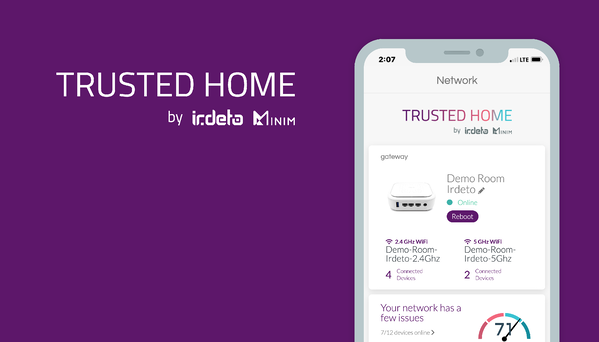 Trusted Home, developed by Irdeto in partnership with Minim, is an artificial intelligence (AI)-driven network security and Wi-Fi management solution for broadband providers (ISPs) to protect their customers home networks. Its intuitive self-care app for Android and iOS gives home users instant control of their home network. "It's brilliant to be a winner for the Cyber Security Awards 2020 and gain further recognition for our hard work and achievements", said Steeve Huin, Chief Marketing Officer at Irdeto.
"I want to thank our employees and the Trusted Home team for their commitment to continuously develop the most innovative solutions for the cyber security business. We are excited to provide a solution which allows home users to control and manage their home network and keep their home network safe. This award is a testament to Irdeto's commitment to always be in the forefront of the industry".
Trusted Home provides easy to follow guidance for home users to troubleshoot Wi-Fi issues, monitor and secure their connected devices, and manage their family's online usage. Additionally, it gives ISPs real-time visibility of all devices connected to the home network, with guidance on how to diagnose and fix customer issues. It is easily installed remotely onto ISPs' CPE (routers, gateways, etc.) in the field or deployed on pre-integrated Mesh hardware.
Using AI and machine learning, Trusted Home monitors Wi-Fi usage in the home to detect anomalous behavior and block all types of security threats. It provides advanced, infrastructure-grade cyber security while keeping customer identity and data confidential. In addition, it makes recommendations or auto-tune settings to improve WiFi connectivity and performance and offers easy-to-use features including parental controls and ad-blocking.  As working remotely becomes the norm, it's critical that consumers be able to have the visibility and control over their home networks to protect their privacy and data.
Cyber Security Awards 2020
The Cyber Security Awards reward the best individuals, teams and companies within the cyber security industry. Excellence and innovation are core themes throughout all categories. With independent, industry leading judges, companies are awarded solely on merit. Judge Naveen Vasudeva, Founder of The Cyber Paradox, said: "It was an incredibly tough year to win a category. Even being shortlisted was a success this year due to the record number of entries. There were so many categories where the judges struggled to pick a winner. Winning this prestigious award demonstrates innovation and success in the cybersecurity industry". 
About Irdeto
Irdeto is a world leader in digital platform security, protecting platforms and applications for video entertainment, video games, connected transport, connected health and IoT connected industries. Irdeto's solutions and services enable customers to protect their revenue, create new offerings and fight cybercrime effectively. With more than 50 years of expertise in security, Irdeto's software security technology and cyberservices protect more than six billion devices and applications for some of the world's best-known and loved brands. With a unique heritage in security innovation, Irdeto is the well-established and reliable partner to build a secure future where people can embrace connectivity without fear.