De Olmenhorst is a lush green oasis nestled in the heart of the Amsterdam Metropolitan Area. Just around the corner from business parks, housing developments, Amsterdam Airport Schiphol and major motorways, this historic estate is home to a rich natural ecosystem. Director and co-owner Amber Elisa de Clercq told us what this magical spot can offer visitors and companies.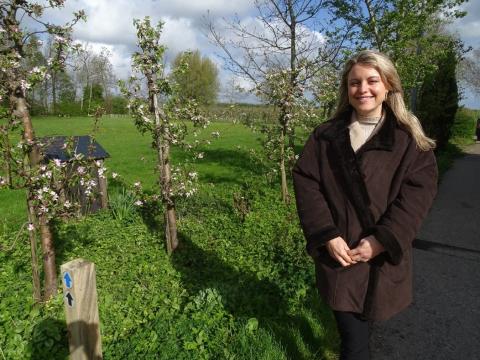 Available and accessible for all
The Olmenhorst estate encompasses 31 hectares of organically farmed apple and pear orchards along with a number of historic buildings, some of them municipal monuments dating back more than 130 years. It has been a family business for almost 170 years. Amber Elisa de Clercq, great-great-great-granddaughter of the original owner, has taken over the reins as director and co-owner. She is proud of what Olmenhorst has to offer. "What makes it unique is the historic aspect but also the quality of the nature," she says. "When my dad adopted organic farming around 25 years ago, people didn't really understand what he was doing. At that time, organic farming was still an alien concept, so you could say he was a true visionary. Now the world is finally moving in that direction and people now understand that we all have a role to play when it comes to sustainability."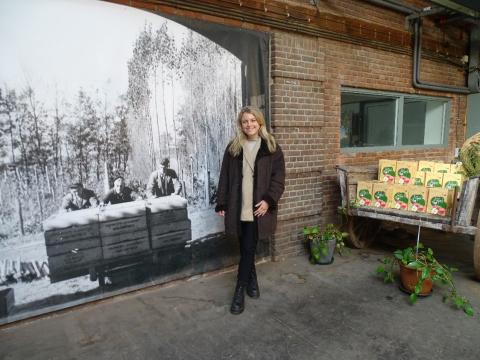 The natural beauty of the estate, which is also a certified bird sanctuary, is something the family are keen to share with visitors. "We really want people to feel that this is a place where you can connect with nature and feel inspired. The core business of the company revolves around organic farming, but the real added value is the sense of well-being you feel when you're on the estate. It's a private property, but it's publicly available and accessible every day, all year round."
Spaces for something special
There are more than 700 international companies based in Amsterdam Airport City, and De Olmenhorst welcomes businesses that seek to organise something different for their staff or clients. There are spaces for a wide range of events, from business meetings to large-scale informal events for up to 500 people.  It's a great spot for team building, says De Clercq: "Companies can host a meeting at one of our locations, followed by a delicious dinner. What better place than to dine in the midst of the orchard. And it's so inspiring to be in nature. Especially for foreign companies, places like this are not something they associate with the area. They think of city buildings and the airport, hopefully soon they will think of nature and apples!"
There are guided tours of the estate and teams can opt to take a creative workshop at one of the studios shops located at De Olmenhorst. And of course, there is apple picking in harvest season. As a keen foodie, De Clercq is eager to highlight De Olmenhorst's culinary offers, which include their own product line of apple- and pear juice and a newly released cider. The café, De Fruitloods, is open all year round for a delicious lunch, themed dinners or simply a piece of apple pie.
A local resource
De Olmenhorst is also a popular venue for weddings and other private parties, but you don't need to make specific arrangements to enjoy the estate. Casual visitors are welcome anytime from sunrise to sunset. De Clercq wants De Olmenhorst to be a resource for the local community. "We see a lot of people from the area, walking their dogs or dropping by with their children after work," she says. And the peaceful surroundings are a draw for everyone.
Adopt a tree and harvest your fruit
Another attraction is adopting an apple tree. "When you adopt a tree, you get your own tree with your name on it, De Olmenhorst prunes and maintains it and when it's ready to harvest you can literally pick the fruit of your own tree. It's a beautiful way to get in touch with nature and learn about organic farming. Companies also do this; they adopt 10 or 20 trees and then the staff get together in the harvest season in September and October to come and pick their apples." More than 9,000 trees have now been adopted and there are different varieties to choose from. De Clercq's personal favourite is Red Topaz, not only because its fruit tastes delicious, but also because the trees are well-suited to organic farming methods. Another variety that's up for adoption is Santana, an apple bred in the Netherlands since the 1970s specifically for its reduced levels of proteins that can cause allergic reactions. This makes the Santana apple suitable for most people with apple allergies.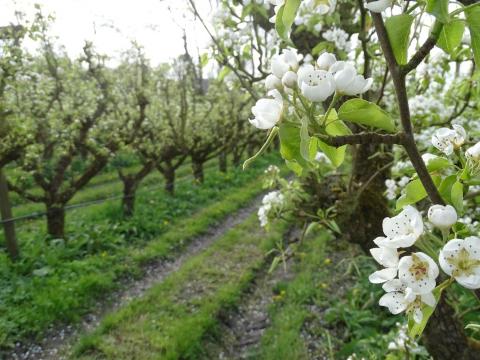 De Clercq stepped into the director's role in 2022 after the sudden death of her father. With a master's degree in Change Management, her background is in business administration rather than in farming, but growing up at De Olmenhorst means she is comfortable with what running the estate requires. And while there have been challenges in taking on the leadership unexpectedly, entrepreneurship runs in the family, says De Clercq.
Ready for future change
This entrepreneurship includes preparing for the future. One of the challenges ahead is the planned expansion of the nearby village of Lisserbroek. Two large new residential districts are to be built there, and the population will roughly triple in size in the next 20 years. De Olmenhorst is already engaged in discussions with municipal authorities about how this growth will affect the estate. "We need to be future-proof", says De Clercq. "We currently have the advantage of being located in a beautiful polder landscape with much open space around us, but we don't want to get boxed in.  People need green space, and we need to be careful. A lot of changes will occur, and those changes need to happen, but there has to be a balance. That is what we are striving for."
Ultimately, she's confident about the future. "I see so much potential here. I truly see this is as a unique place in the Netherlands. My aspiration is to be solid in terms of finance but also in terms of identity. We want to stay true to our hearts. I want to do more in the direction of education and awareness, and being sustainable, but I also want more people to enjoy this place."