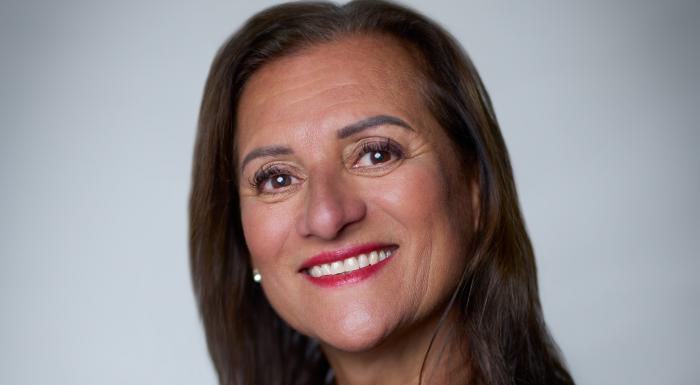 Based in Amsterdam Airport City, Microsoft Netherlands' HQ is the perfect location for the company to further both its business and its SCR goals. We spoke with general manager Anke den Ouden about the local business climate, the state of tech education and collaborations within the local ecosystem.
Bringing the global view home 
It was a homecoming of sorts: in 2021, Anke den Ouden returned to her native Netherlands to become general manager of Microsoft Netherlands. She had begun her career at Microsoft Germany before taking on leadership roles at Microsoft Russia, Microsoft Poland and the main office for Central & Eastern Europe. This background gives Den Ouden a distinctly global view, but also an intimate knowledge of the Microsoft organisation in terms of its business, goals, partners and culture.
Microsoft has been in the Netherlands for more than 36 years, now numbering over 1000 employees. The company has long evolved from selling Word and PowerPoint to the masses, supporting private and public-sector organisations across all industries and domains – from business to healthcare and education. It's also making significant contributions to research in fields such as quantum computing and deep machine learning.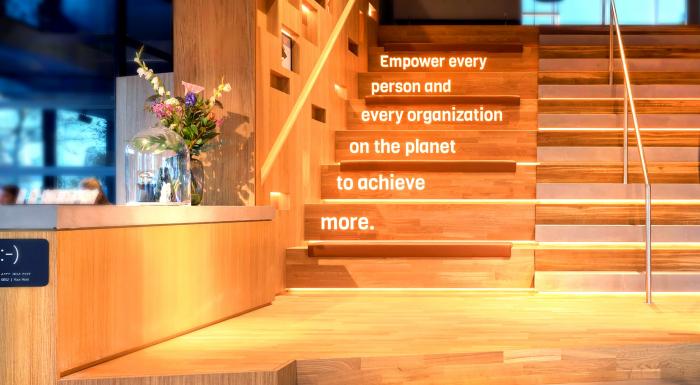 Location, location, location 
Microsoft Netherlands' headquarters, several research facilities and a data centre are at Amsterdam Airport City. "It was a conscious choice to come here," says Den Ouden. "It's one of the most dynamic and fast-growing regions in Europe, with a strong ecosystem of technology companies, research institutions, government agencies and service providers. The fact it's close to the vibrant city of Amsterdam means we can attract talent and foster creativity."
Sustainability and CSR considerations also played a role, as well as accessibility and the potential to accommodate flexible working models. "As a whole, the location fits with our ambitions to create a modern and sustainable workplace that reflects our values and culture, as well as our commitment to environmental and social responsibility," says Den Ouden. "We really set out to create a location where people could work from anywhere, anytime and with anyone. The proximity of the airport, but also the accessibility to our employees, customers and partners, which are spread across the country, is a huge benefit."
Creating a deeper talent pool 
Being accessible for customers is a particular priority, says Den Ouden. "Even before the Covid pandemic, we remodelled our office into a customer hub, where our customers and partners can co-create with us."
And the idea of co-creation goes beyond the world of colleagues and clients to also embrace the larger surrounding ecosystem – in particular when it comes to searching for talent. Microsoft Netherlands works closely with the area's many leading universities and research institutions, but also looks beyond academia. "We have to change the way we look at talent and create a more diverse workforce," says Den Ouden. "Education isn't the most important selection criterion anymore – knowledge can be found. We really seek people who are very curious and have the ability to continuously learn. And in order to retain these people, we are trying to create an inclusive culture, where everyone can come as they are. We have to make sure everyone feels at home."
Don't take tech – or education – for granted 
While Den Ouden hails the Netherlands as open and innovative, she says the country should be careful not to fall behind on digitalisation. "The Netherlands was one of the early adopters in the field of digitalisation," she says. "But my career has also taken me to Eastern Europe, where the gap with Western Europe is still large – with a lot still being done on paper. However, this also creates an enormous will to change. The realisation that technology can increase prosperity means Eastern European countries are catching up enormously. We have to be careful not to fall behind."
She advocates accelerating the improvement of the Dutch education system. "We still haven't fully adopted technology and aren't always educating for the jobs of today and tomorrow. There's too much emphasis on getting certain scores. If you don't fall on a certain curve, you can easily fall out of the system. I really believe that we can enable everyone with technology. Companies and the government need to collaborate closely to drive this progress."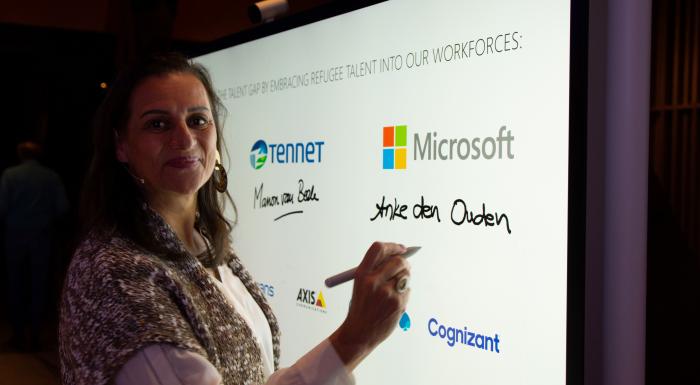 Driving innovation with CSR 
It fits in with the company's overall ambitions. "Microsoft's mission is 'to empower every person and every organisation on the planet to achieve more'," says Den Ouden. "This means driving societal impact and prosperity of the Netherlands is essential for doing business. It's part of our license to operate." 
One such initiative, related to scarcity of tech talent, is the Azure Refugee Academy, wherein Microsoft works with various partners to train and place refugees for ICT jobs. This is part of the larger TENT partnership, which has the goal of employing 500 people who have been granted asylum in the Netherlands – known as 'status holders' – at Microsoft and its business partners by 2025. It's an effort that is complemented by the plans of the municipality of Haarlemmermeer to build accommodations for 500 status holders. 
With all this forward momentum, Den Ouden is very positive in outlook. "I only see a bright future and many business opportunities in Amsterdam Airport City," she says. "It's a place where innovation and collaboration thrive. We are excited to be part of this ecosystem and to contribute to its growth and development."