The Municipality of Haarlemmermeer has strengthened their relationship with international companies and brought together key players of different focus industries during five 'Amsterdam Airport City Business Lunches' that were organised in Hoofddorp. On the agenda were topics such as impactful innovation, sustainability, labour market, corporate social responsibility, and the business climate.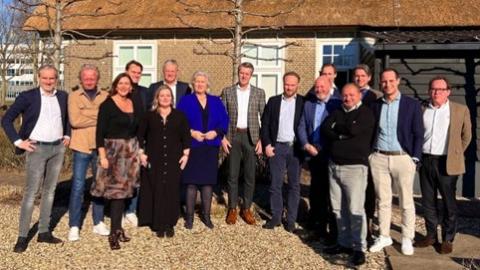 Caption: Participants in the Amsterdam Airport City Business Lunch 'Digitalisation'.
'We, as representatives of the municipality, are proud that innovative market parties, such as yourselves, are located in Haarlemmermeer.' These were the words mayor Marianne Schuurmans used to welcome the high-profile guests of the five Amsterdam Airport City Business Lunches organised by the municipality at Restaurant Den Burgh in Hoofddorp in 2022 and 2023. The thematic lunches were designed around the municipality's focus industries such as IT/ Tech, Life Sciences & Health, Consumer Goods, and Energy, as well as Logistics & Aerospace.
Haarlemmermeer; exceptionally enterprising
'Haarlemmermeer is an exceptionally enterprising municipality,' explained the mayor. At the heart of the municipality is one of the world's most internationally connected airports: Amsterdam Airport Schiphol. Moreover, it is a very important digital hub in Europe, over 700 foreign companies are located in the Haarlemmermeer area, and there are distinct links to the global economy. The mayor continued, 'We therefore play an important role in international business. Haarlemmermeer has a great deal to offer. In addition to the excellent physical and digital accessibility, it offers state-of-the-art business locations, a highly educated and talented workforce, and a good quality of life. The thriving business ecosystem is what drives innovation and economic growth in the area.'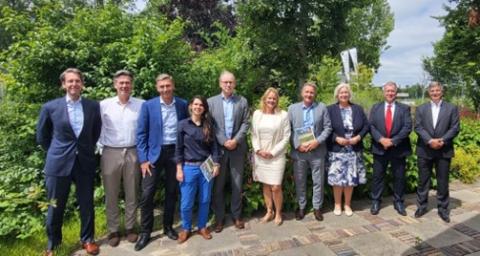 Caption: Participants in the Amsterdam Airport City Business Lunch 'Energy Transition'.
Strongest economic region in the Netherlands
'Our economy was hit hard by the effects of the COVID-19 pandemic that started in March 2020, and the airport was obviously affected as well,' said alderman Marja Ruigrok. However, the economy in Haarlemmermeer has recovered well, including in terms of attracting international companies. The fact that Haarlemmermeer has successfully managed this is partly because its policy focusses on several strong, pioneering and innovative sectors. 'Diversification is a key issue for us,' said Ruigrok.
Last year, Haarlemmermeer was once again proclaimed the strongest economic region in the Netherlands (Elsevier Weekblad, 100 Toplocaties). 'This is a position that we would like to perpetuate. We are improving our competitiveness and are gearing our economy up for the future by providing great locations for businesses to set up their head offices and by bolstering our industry focus. This approach will make Haarlemmermeer resilient and less susceptible to economic shocks in the future,' said the alderman.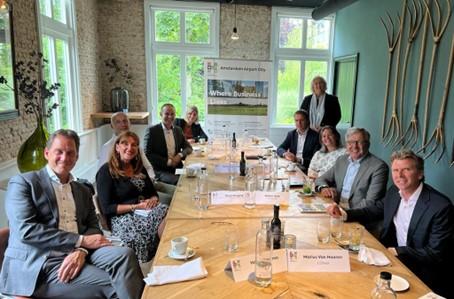 Caption: Participants in the Amsterdam Airport City Business Lunch 'Consumer Goods'.
'We see innovative opportunities and a sustainable future for our companies in these industries,' added Patrick Verhulst, Director Airport City at amsterdam inbusiness and Senior Strategic Advisor Investments & Business Climate at the Municipality of Haarlemmermeer. 'Our international companies lead the way to a robust and future-proof economy. Not only for our municipality, but for the entire Amsterdam Metropolitan Area and the Netherlands as a whole.'
Amsterdam Airport City and amsterdam inbusiness
As part of the metropolitan area, the municipality is positioned internationally as 'Airport City' or 'Amsterdam Airport City'. In cooperation with the foreign investment agency amsterdam inbusiness, the municipality assists (foreign) investors and companies to establish and expand their businesses in the Amsterdam Metropolitan Area. The Amsterdam Airport City Business Lunches have been organised by the municipality's Team Marketing & Acquisition (Economic Affairs). For more information, please contact patrick.verhulst@haarlemmermeer.nl.
With special thanks to: L'Óreal, Danone, Sonion, HMSHost, Cargill, Fossil, BSH, Neste, Schneider Electric, Honeywell, Delta Electronics, Cleantron, Stulz, Solar Greenpoint, Juniper Networks, Wordline, Nutanix Netherlands, Irdeto, Seagate Technology, EPAM Systems, Nokia, Liberty Global, Azerion Holding, Ingenico Group, World Wide Technology, Microsoft, Masimo, Kite Pharma, Sun Pharma, Bausch + Lomb, Will-Pharma, Multi Care Systems, Nippon Expres, DHL Global Forwarding, CTS Group, FedEx Express, Maersk, IAA Airfreigt, Expeditors, Rutges Cargo Europe en Amazon.